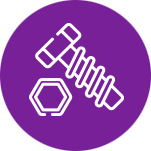 Endela Trading and Manufacturing is a provider of industrial fastener solutions, specialising in assembly, supply-chain, co-design and component sourcing services.
---
For more than 30 years now, we have remained committed to maintaining high quality standards. Our operations in Singapore and Thailand are ISO 9001-certified for quality management.
---
OPERATIONs
We have offices based in Singapore, Thailand and China to optimise our manufacturing efficiency and allow us to reach our customers effectively. Contact us
Please complete and submit your feedback below. We will get back to you within 3 working days